lundi, 13 juin 2016
Salut à toutes et à tous !

Samedi dernier est sorti mon nouvel EP. Celles et ceux qui me suivent depuis un bon bout de temps musicalement savent que, généralement, je fais plutôt du Rock Country. Cette fois-ci, retour aux sources, j'ai produit quelques titres plutôt dans la veine Metal Industriel. Un besoin d'extérioriser pas mal de choses concernant ce monde de merde dans lequel on vit.

L'EP s'appelle VIRUMANS et traite du fait que l'humain est un putain de virus, une machine sans espoir bonne qu'à détruire et à tuer son prochain.

Vous pouvez le retrouver sur la plupart des plateformes de téléchargement légal, dont :
-iTunes : http://itunes.apple.com/fr/album/virumans-ep/id1116719293
-Spotify : http://open.spotify.com/album/537rGzfmiJBkqzC2IwWOlR
-Deezer : http://www.deezer.com/album/13180116
-Google Play : https://play.google.com/store/music/album/Sky%C3%ABrn_Akl...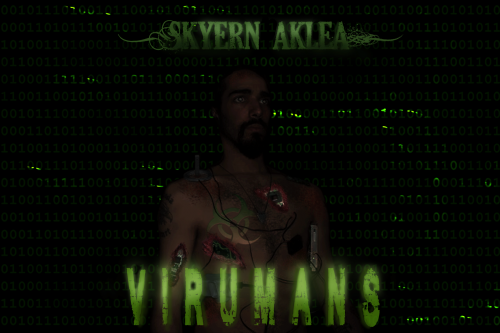 LYRICS :

01 - THE WRONG CODE

Sometimes you feel so empty..
It's like nothing is good, nothing is wrong. You just don't know.
You don't know where you're going, you don't know what to do, you don't know why are you still there.

You don't know, you don't know what I lived, you don't know nothing about me.
Everyday I wake up with those same words in my fucking head : Why am I still alive ?!
Why didn't I just crash into this fucking tree ?!
Am I good ? Tell me.. What did I do wrong ? Where did I go wrong ?!
I can't take it anymore.
I just wanna make it end forever.

You just wanna blow your mind, put a bullet inside.
But you can't. You won't do that.
You're too curious to see what life will bring to you.
It's like a cure. A remedy that you don't really want but you have nothing to lose, and maybe everything to gain..


02 - HUMAN VIRUS

Let me tell you a story :
This life looks like a knife
It stabs you in the back
Even when you don't have the knack,
You can't protect from the act

Get out !
Get out of here !
I can't take it anymore
And I wish you were dead

What does it feel to be crazy ?
I am awake until the day I die

I am living to die
I won't fade away
I am stronger than your lie
Don't look my way

We're born Humans
A huge virus created to destroy everything
We're born Humans, we're born to die
There's nothing you can do to stop them..
We're born Humans, we're born to die
There's nothing you can do to destroy them..
We're born Humans, we're leaving-dead
We are the ghost of your lives

And I am ashamed to be your slave
And nothing you can do will seperate my skin from my mind..
My body has collapsed and my heart is torn apart..

Now my soul's elevating and the blindness is leading me through hell.

We're running for our pride
It's something your can't deny.


03 - CLONES

Tell me why should I care ?
Fuck the system is what remains !
Why should I be part of this society ?

Do I get to know you ?
Does it make any sense ?
Can you feel something inside you ?
Deep thoughts are dead..

Clones, you're all the same
To pretend to be in the game
And you know it is not a shame
If you can not even spell your name

You got no Goddamn value
You got no Goddamn respect
You are a hopeless machine
You are built to destroy

Under your skin's running your friend's blood
Your face is like some shit I've already seen

There is no cure known for hypocrisy
Do I get to erase you ?


04 - THE HOPELESS MACHINE

I'm running higher
I'm running faster

The hopeless machine !
The hopeless machine !
The hopeless machine !

Welcome into the Hopeless Machine
Another dimension where you can't hide from yourself
Your whole body has been exterminated
Hopeless
Faithless
Heartless
Blindness
Reckless
Mankind is wrong

We're living life as we fall
We're living life as we fall

Maybe someday I will die..
Is it so hard to see your sight ?
Maybe someday I will fly..
I still wonder where is my light..


05 - FULL OF HATRED

Hate..
Pain..
Shame..
Lie..
Sorrow !
Dying..
Suffering..
Echoing..
Variation..
Truth ?
God ?!
Fail..
Full of hatred.
14:10 Publié dans Musique
Tweet it ! | Lien permanent | Commentaires (0)
Tags : metal, industriel, ep, itunes, spotify, deezer, google play, metal industriel, industrial, industrial metal, virumans

Suivez-moi sur YouTube ou Facebook !
Ou sur Twitter : @Sky3RN